In addition to supplying our own configurable turbomachinery controls products to the compression market, we also deliver integrated application-specific solutions using leading hardware platforms (PLC, DCS, configurable governors, and auxiliary protections).
Compressor Control Solutions Platform Experience

| Brand | Platform(s) |
| --- | --- |
| Allen Bradley | ControlLogix, CompactLogix |
| Honeywell | C300 |
| Siemens | S7, PCS7 |
| RTP | TSx |
| Triconex (Schneider) | Tricon, Trident, Tri-GP |
| Tri-Sen | TS3000, TS160, TS310-SC |
We supply both centrifugal and axial compressor controls solutions for Refining, Ethylene, Chemical, Ammonia, Fertilizer, LNG, and Transmission applications
Application Experience

| Industry | Plant/Unit/Machine |
| --- | --- |
| Refining | Hydroprocessing, Fluid Catalytic Cracking - Power Recovery, Catalytic Reforming, Delayed Coking, Alkylation, Gas Plant |
| LNG | Mixed Refrigerant, Propane Refrigeration, Boil-off Gas, Fuel Gas, Treat Gas |
| Ethylene | Cracked Gas, C2 refrigeration, C3 refrigeration, Binary refrigeration, Heat Pump |
| Ammonia | Process Air, Syngas, Ammonia Refrigerant, Feed Gas |
| Fertilizer | CO2, Nitric Acid, Air, NOx |
| General | Waste water, pipeline, etc. |
Basic Compressor Throughput (Process, Performance) Control
The most basic compressor throughput control is typically accomplished with: discharge throttling, suction throttling, guide vane positioning, or speed control.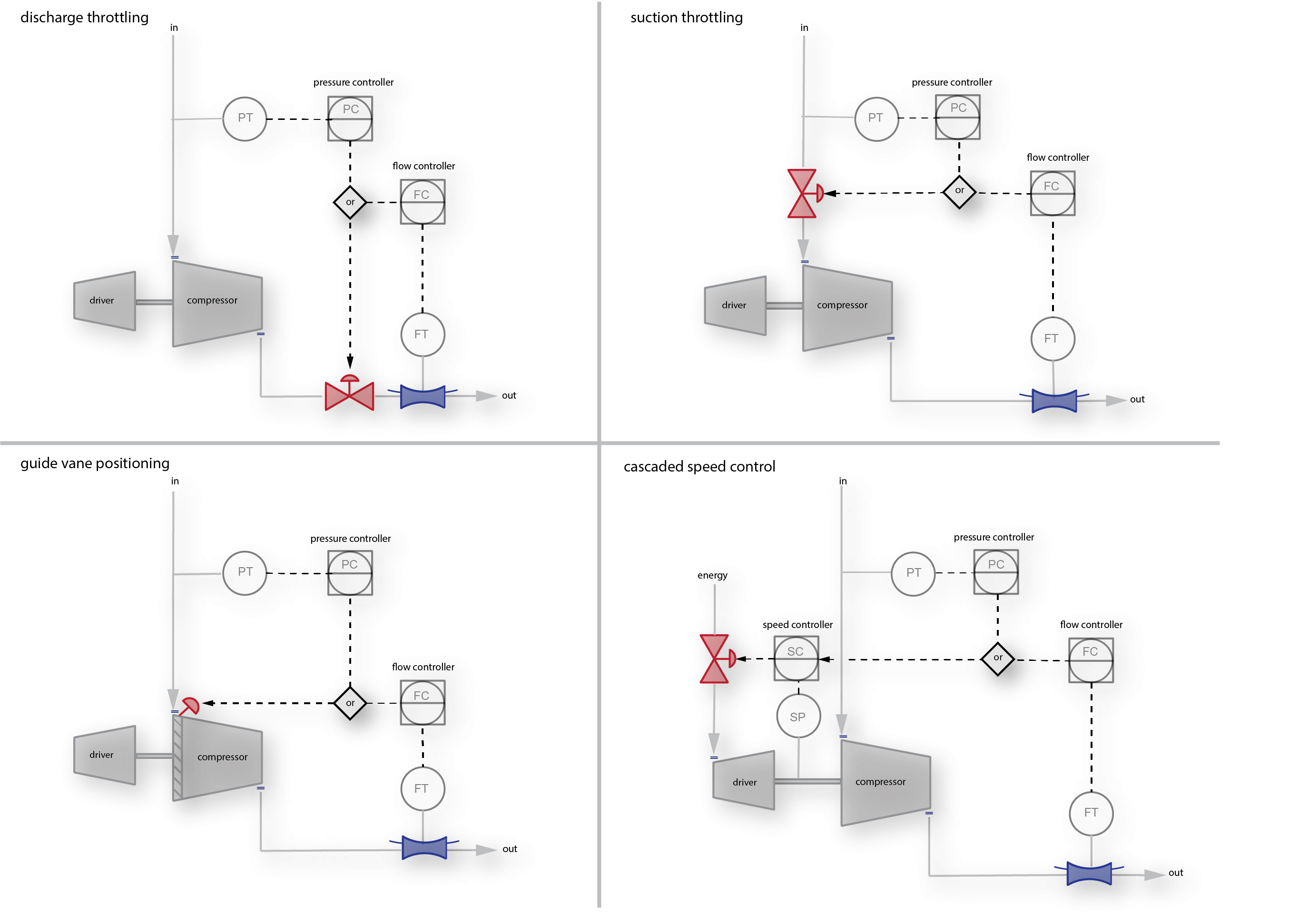 Typical Tri-Sen Basic Compressor Throughput Control includes:
Automated start-up / shutdown sequencing
Adaptive PID tuning
Bumpless transfer between process PID controls
Bumpless process PID Auto/Manual transitions
Process limit override controller(s)
Auxiliary controls (seal gas, lube oil, etc.)
Check out our blog
Every few weeks, we add a new discussion on a turbomachinery controls topic that we were either asked about recently or a topic that we think you might be interested in learning more about.